Day 20 - Thursday September 18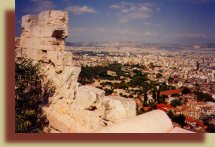 Thank goodness the trip to Athens was two hours shorter than the expected 5 hours. We arrived around 8 but it was already dark so we headed for the first hotel we could see. The hotel was supposedly located in a bad sector of town so we went to bed hungry. Nice room, small but clean with a TV. At this point of our trip we decided that we were tired of planning our own tours and to save time we planned to take some organized tours for the next few days. The faster we got to Santorini the better!
Day 21 - Friday September 19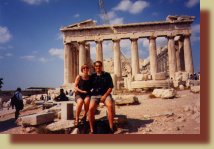 The night before we had decided to try the tours of Athens and its surroundings. Yes, they were expensive, but we were tired of worrying. So up at 7am to get to the terminal by 9am. Getting to the terminal on the other side of town proved to be difficult. None of the bus info people spoke English but the hotel rep told us to take the trolley from Omonia square on Stadiou street. Of course there were many. After letting a few buses go by wondering if it was the right one to take, we decided to hop on one that had a sign for the region we were trying to get to. Bus #1 took us right next door to the tour company. We got our tickets and some hazelnut filled croissants, yummy! And hopped on the coach bound for our first tour: Historic Athens. We passed the Arc, the Temple of the Olympian Zeus, some random other buildings, university, library, academy of art (beautiful), the French Embassy, the President's house, the Tomb of the Unknown Soldier and finally the Acropolis.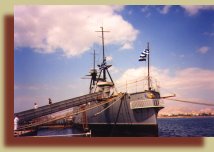 The site was very busy with zillions of tour buses but nonetheless impressive. The tour guide obviously enjoyed her work, explaining all the history and mythology behind the Temple and the Parthenon. She also really loved #%$#@ (can't figure out what Mona wrote!). Our last stop on that morning tour was a battleship museum. It was supposedly Greece's only boat to survive WWI and WWII. Thierry's brother Joel would have loved this but we were not that interested. We then had about an hour before our next tour so we decided to have a bite to eat at a nearby restaurant. We also had the option to go swim at a hotel but food ranked higher at that time. It was a nice little family run restaurant, great food. We had stuffed vine leaves with lamb shish kabobs and tomato & cucumber salads. Back at 14:45 for our afternoon tour to Cape Sounion. One of the buses arriving from pick ups was 45 minutes late so we ended up waiting in the terminal for about an hour. We finally hit the road for the 1 and a half hour ride to Cape Sounion.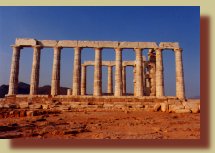 During the ride we finally saw where the long awaited sandy beaches were, beautiful scenery! I took a snooze as usual and missed most of the scenery but Thierry got to enjoy it! At the Cape, it was windy and cool but the view was just gorgeous. We had already seen many columns & ruins but the setting helped! Thierry wanted to take a picture of the temple without any tourists In front of it to ruin the picture, so I had to ask this lady to move a little bit. She moved but seemed to think that she should not have to move since she usually takes pictures with tourists in them. Sorry missy, did not want to have you in our pictures!!! Back on the bus for a late return. Overall a nice day. The bus dropped us of right in front of our hotel! Still we had trouble finding it even though it was in front of us. Guess we were turned around in that maze of streets! We fell asleep to an English movie with Greek subtitles. P.S. We found out today from the tour guide that the many boxes on the side of the road in Itilo and everywhere else in Greece are actually shrines left in memory of those who died in car accidents .